Information for partners - about cooperation with ATC-CONVERS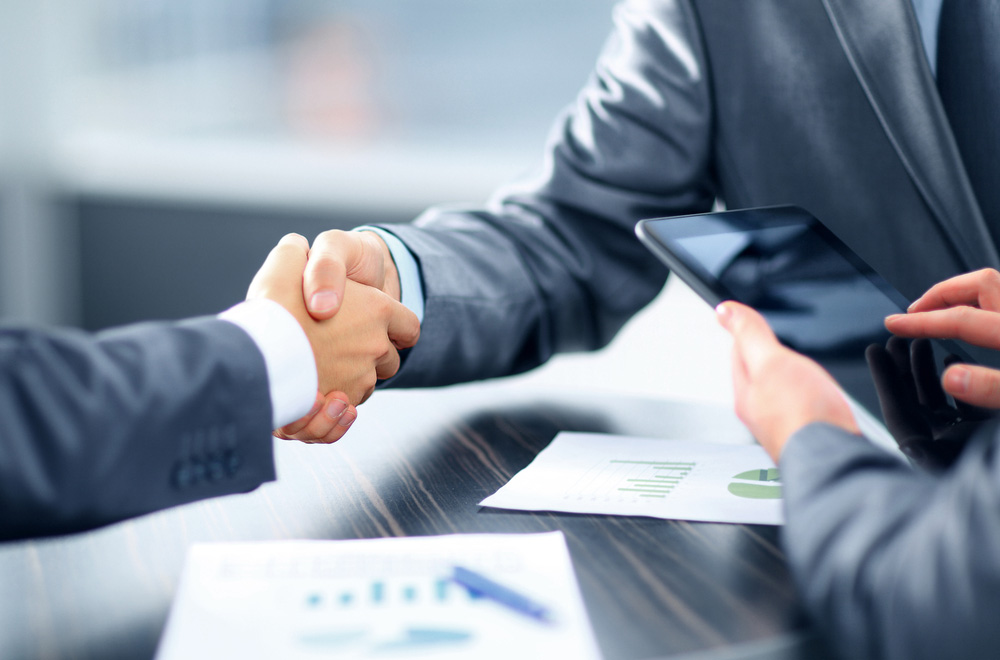 Why is cooperation with "ATS-CONVERS OOO" profitable?
Our company is targeted at expanding of it's economic space in the sales market and is constantly improving it's product line.
Design solutions which provide uninterrupted power supply, protection and improve the quality of power supply are time-tested, and innovations in production ensure the competitiveness of equipment.
A special advantage is the long-term experience of successful operation in Russia and awareness of domestic features of the operation of power supply networks.
All this gives the company significant advantages that can become the basis for mutually beneficial partnership.
In this regard, ATS-CONVERS OOO offers options for cooperation programs to all interested organizations. Partners and dealers of the company get a flexible discount system, special terms of delivery and payment for products, the ability to register and protect project, advertising, information and technical support and a number of other benefits and privileges.
To become our partner it is enough to fill out a questionnaire, and send it to convers@atsconvers.ru by email.
The number of partners and dealers in one region may be limited depending on the demand for products.
The official status of the Dealer is confirmed by the standard certificate: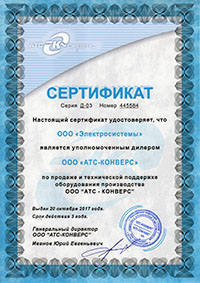 More detailed information can be obtained by phone: 8 800 200 52 72 (toll free in Russia).
Our dealers and partners:
Name
City, country
Contact information
Russian Telephone Company OOO
Moscow
Ozernaya str. 42, 15th floor, Moscow, 119361, Tel.: +7 (495) 645 34 25.
www.rus-telcom.ru, E-Mail: mpp@rus-telcom.ru.
OOO INT
Moscow
House 3, building 47, office 110, Electrolytny proezd, Moscow, 115230, Tel .: +7 (499) 678-00-48.
www.innettech.ru, E-Mail: info@innettech.ru.
Orgtelecom OOO
Moscow
Akademicheskaya pl., 4, Troitsk, Moscow, 108841, Tel.: +7 (495) 231-34-92, +7 (495) 231-34-93.
www.orgtelecom.ru, E-Mail: info@orgtelecom.ru.
SOVTEL ZAO
Moscow
Building. 1, "Business Center Rumyantsevo", office 710 B., Rumyantsevo village, Moscow, 142784, Tel .: 8 (495) 788-88-98, fax: 8 (495) 788-88-97.
www.sovtel.ru, E-Mail: mail@sovtel.ru.
PKF KRON OOO
St. Petersburg
Bumazhnaya str. 17 A, office 341, St. Petersburg ,198207, Tel .: 8 (812) 252 45 91.
www.kronsp.ru, E-Mail: kron@sp.ru.
INT OOO
St. Petersburg
Mendeleevskaya str., 2, office 230, St. Petersburg, 194044, Tel .: (812) 2-448-448.
www.innettech.ru, E-Mail: info@innettech.ru.
ISTEL OOO
Nizhniy Novgorod
Oksky S'ezd str., 4, office 131, Nizhny Novgorod, 603022, Tel .: 8 (831) 423-47-06.
www.istel.su, E-Mail: info@istel.su.
Makselt TSC OOO
Novosibirsk
Stantsionnaya str, 4/1, office 2, Novosibirsk, 630032, Tel .: 8-383-2-137-232.
www.maxelt.ru, E-Mail: maxelt@ngs.ru.
ADVANTEK SYSTEMS TOO
The Republic of Kazakhstan
Taimanov str., 150A. Almaty, Republic of Kazakhstan, 050059, Tel .: +7 (727) 277 77 00, 390 06 61, 264 81 14.
www.as.kz, E-Mail: sales@as.kz.
CoslightBel PSUE
Republic of Belarus
Mira str., 20, office 14, agrotown Priluki, Minsk District, Minsk region 223011, Tel .: +375 (17) 295-12-02, +375 (44) 72-72-612.
www.coslight.by, E-Mail: info@coslight.by.
Stroy-Technic OOO
Pskov
Pervomayskaya str., 35, Pskov, 180006,Tel .: (8112) 72-05-28.